Members of the Clearwater Basin Collaborative represent diverse interests in the Clearwater Basin.
These range from local industry, recreation and conservation to county and tribal governments. The U.S. Forest Service sends at least one employee to all meetings. Each member of Idaho's congressional delegation has also appointed a liaison to attend meetings.
Federal, state and congressional staff members participate only as advisors.
Participant List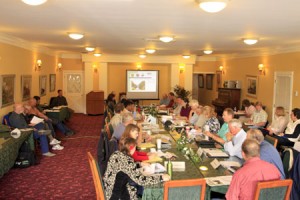 | | |
| --- | --- |
| Aaron Miles | Nez Perce Tribe |
| Alex Irby | PLAY |
| Bill Higgins | Idaho Forest Group |
| Bill Warren | U of I Clearwater Extension |
| Brad Brooks | The Wilderness Society |
| Dale Harris | Great Burn Study Group |
| David Galantuomini | PLAY, Lewiston OHV Club |
| David Cadwallader | Idaho Fish and Game |
| Don Ebert | Clearwater County Commissioners |
| Greg Danly | Empire Lumber |
| Holly Endersby | Backcountry Hunters and Anglers |
| Jonathan Oppenheimer | Idaho Conservation League |
| Joyce Dearstyne | Framing our Community |
| Larry Jakub | Citizen at Large |
| Leo Crane | Lake & Leather Outfitters |
| Orville Daniels | Rocky Mountain Elk Foundation |
| Randy Doman | Citizen at Large |
| Robyn Miller | The Nature Conservancy |
| Ron Aldrich | Citizen at Large |
| Scott Stouder | Trout Unlimited |
| Skip Brandt | Idaho County Commissioners |
Advisors and Liaisons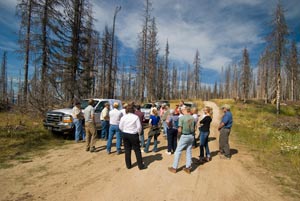 | | |
| --- | --- |
| Mitch Silvers | US Senator Mike Crapo |
| Mike Hanna | US Senator Jim Risch |
| Scott Carlton | US Congressman Raul Labrador |
| Katie Brodie | Governor Otter's Office |
| Kathy Rodriguez | Forest Service Liaison |
| Tera King | CFLRA Project Coordinator |
| Rick Brazell | Forest Supervisor |
| Elayne Murphy | Citizen Liasion |
| Michael Ward | Nez Perce /Clearwater National Forest |
| Kelli Rosellini | General Coordinator |
| Olleke Rappe-Daniels | Citizen Liaison |